This is an adopted actor.
Terri-Ava Jetso

Biographical information

Full Name

Terrisa-Avalon Maria Jetso

Nickname(s)

Terri

Gender

Female

Birthday

08/04/94

Age

23

Hometown

Austin, Texas

Nationality

Latin-American

Professional Information

Occupation(s)

Actress, Singer-Songwriter.

Manager

Years Active

2000-present

Affiliations

Mega Music Management

Wiki Channel Credentials

Shows

Roles

Miya Johnson

Signature
   Terrisa-Avalon Maria Jetso (born August 4, 1994) known publicly as Terri-Ava Jetso is an American/Latin singer-songwriter, and actress. She officially signed on to Wiki Records on August 11, 2016 and released her first single, Stone Cold on August 17, 2016.
Early Life
Edit
Jetso began acting and singing in the year 2000 when she starting performing in a community theatre group for children. It was at that point when she was scouted by "Young Talent: Acting Agency" and began booking commericals and gigs.
In 2002 Jetso and her father went to New York to land Jetso a major part in a Broadway musical, where she fund her love for singing. It was in 2003 that she began singing for KidZ Bop, a popular karaoke kids music franchise. It was later that eyar that she was casted in the hit UPN series,
Eve
.
In 2004 Terri and her family moved to Barcelona, Spain for 2 years, which was the platform for her to begin writing her own music. When she returned in 2006, Jetso had already done small shows and reccurring roles on spanish tv series and commercials. During 2006 she also auditioned for Radio Disney's N.B.T, though she didn't win, she continued acting and singing.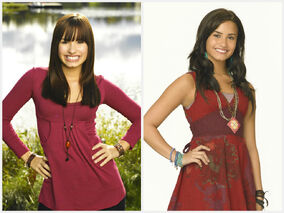 In 2009 Jetso made a breakthrough by playing teen daughter Veronica Moore opposite Vince Vaughn in the featured film, "Less is Moore" and the sequal "Less is Moore 2: Aspen Adventure" whiched debuted in 2011.
In early 2013 she appeared on the Wiki Channel Original family comedy, "Life with Twins" and later that year Jetso auditioned for Wiki Channel and landed the role of popular older sister Miya Johnson in the original comedy series, Miss Good Girl which began airing in 2014.
Filmography
Edit
| Movie | Role | Notes | Year |
| --- | --- | --- | --- |
| Eve | Jessica | 2nd grader, 1 episode | 2003 |
| As the World Turns | Lydia Lavaton | 2 episodes | 2007 |
| Life with Twins | Penelope | 1 episode | 2013 |
| Miss Good Girl | Miya Johsnon | Main role | 2014 |
| Movie | Role | Notes | Year |
| --- | --- | --- | --- |
| Maria-Maria | Kelia Vasque | Spanish Film | |
| Less is Moore | Veronica Moore | Major role | 2009 |
| Less is Moore 2 | Veronica Moore | Major role | 2011 |
_
Ad blocker interference detected!
Wikia is a free-to-use site that makes money from advertising. We have a modified experience for viewers using ad blockers

Wikia is not accessible if you've made further modifications. Remove the custom ad blocker rule(s) and the page will load as expected.