Release date(s)
November 14, 2014
Running Time
{{{running time}}}

Pretty Geeky is an upcoming Wiki Channel Original Movie that is expected to air late 2014. The movie was officially picked up by the network on April 22, 2014. It was confirmed that Aiden Kristoff was no longer involved with the project, since then the role was given to newcomer Dalton Cross. The movie premiered with 5.1 million viewers in the US.
Fashionable and chic Layla Brandon is a straight A student who gets assigned to tutor the new kid at her school, Cole. Chemistry test after chemistry test, Cole is constantly flunking each one. But, Layla soon learns that it's because he and his buddies have been hard at work preparing for an upcoming Robot Wars tournament they are going to participate in, under the team name "Jet 3."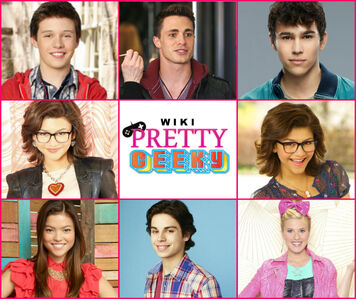 The team must build an extreme robot and then battle it out in the arena. When Cole notices Layla herself has a secret gaming and nerdy side, he asks her to join the team to satisfy the rule of having 4 or more members. His teammates on the other hand, Wyatt and Jet, along with a lot of the other robotic community competitors, doubt that a fashionable girly-girl like Layla is capable of dealing with something as intelligent as robotics. Now, with her fashion intact and confidence fresh, Layla is ready even more to win the Robot Wars and prove to everyone and herself that girls can have both brains and beauty.
Main Cast
Edit
Supporting Cast
Edit
The movie's official theme song, "Too Much" performanced by Rayelle was officially released November 17, 2014 through Wiki Channel Music Group.
Ad blocker interference detected!
Wikia is a free-to-use site that makes money from advertising. We have a modified experience for viewers using ad blockers

Wikia is not accessible if you've made further modifications. Remove the custom ad blocker rule(s) and the page will load as expected.