Season 1b
Liberty Dillon
as
Jenn Matthews
- Jenn is now seventeen years old, and is a curious as ever. She now knows the secret of her grandfather, but she now wants to know the secret of the clock. She is still the same rebellious teenage girl, but now she's more secretive than ever. When Connor was ripped away from. Her, she thought her parents would give her some time to grieve, but according to her, their selfish ways forced her to get married. Jenn, throughout the season, tries to trace the clock back to the origin, as well as contact Connor, and she also has to deal with the fact that she is going to have to get married.

---
Daniel Reed
as
Connor
- Connor is now 18 years old and on his run from his home in San Diego. He needs to make it back to find Jenn again, but the only thing standing in the way is the distance. He puts himself into dangerous situations as he breaks a few laws and risks his life to find his was across the state. He is still the same daring kid, but now he is trying to unlock the secrets of his own past, to find out who his parents were and why he never knew them.

---
Xavier Jones
as
Ricky Matthews
- Jenn's new partner in crime, Ricky is now a 15 year old boy, with the same attitude. He is mature, and often tells Jenn what to do, but she doesn't listen to him anyway. He dresses a little more on the casual side this season, and he also wants to unlock the secrets of the grandfather clock, and why his necklace has a strange pull to it also. He seems to also be struggling with a inward battle, but no one is exactly sure what it is.

---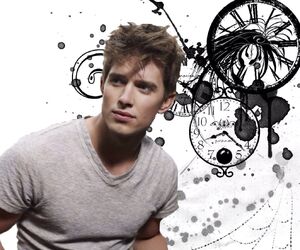 Nathan Houseworth
as
Dallas Matthews
- Dallas thinks he has his heart and his family figured out, but he's not even close. His girlfriend of now 3 months, Cleo, leaves for a college across the country, and his brother and sister seem to be keeping more secrets from him than they did before. However, he finds his own problem to worry about when he diss covers a whole new side to the tough street fighter, Rocky. He doesn't care for his family as much as he used to, because he thinks their mature enough to care for themselves.
---
Recurring Characters
---
---
---
Ad blocker interference detected!
Wikia is a free-to-use site that makes money from advertising. We have a modified experience for viewers using ad blockers

Wikia is not accessible if you've made further modifications. Remove the custom ad blocker rule(s) and the page will load as expected.